Its Fast!

Our Secure Barcode Sticker or Fast Pass Tag on your windshield confirms your membership.
A quick scan and you are on your way!
It's Convenient!
Monthly credit card Auto Pay. Cancel any time after the 2nd month. (7 day cancellation notice required)
$9.99 offer is for new members only & will be credited to your account on first visit.
It's Unlimited!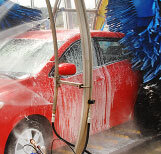 Get ScrubaDub clean, anytime you want. Want a clean and shiny car all the time? Unlimited Car Wash Club Members can wash their vehicle once a day, once a week, or as often as they like.
ScrubaDub Unlimited Car Wash Club — Maine, New Hampshire & Rhode Island Location Pricing
Wash your vehicle as often as you want at any of our 19 tunnel locations. Wash once a week and its a great deal. Wash more and it's a steal! It's only $9.99 for the first month (new members only) with future months as low as $18.99. Visit any location to sign up and start washing or buy online now and wash the same day. (Sorry, not available at or self service or automatic bays)
The Ultra Unlimited – $42.99/mo
Unlimited Ultra Washes – Our best wash includes our Express Wash, 2 Step Ultra Shine protectant with UV protection and High Tech Polymers for durability, Under Wash, Rust Inhibitor & Wheel brite. PLUS Tire Shine and Vision Clear!  Regular price $23-$24
The Works Unlimited – $32.99/mo
Unlimited Works Washes – Works Wash includes our Express Wash, Simoniz DuraGlaze 2 step conditioner/sealant for shine and protection, Under Wash, Rust Inhibitor & Wheel brite. Regular price $18-$19
Super Choice Unlimited – $26.99/mo
Unlimited Super Choice Washes – Super Choice Wash includes our Express Wash & your choice of 2 –  Simoniz Sealant, Under Wash, Wheel brite. Regular price $13-$14
Express Unlimited – $18.99/mo
Unlimited Express Washes – Our basic car wash. Clean Fast & Fun! Regular price $9-$10
Commercial Accounts – ScrubaDub Unlimited – Starting at $39.99/mo  
Commercial vehicles such as taxi's and transportation companies are prohibited from our consumer unlimited plans. Plans for our commercial customers start at $39.99 and require a 6 month minimum. Please visit any ScrubaDub location to join or for more details.